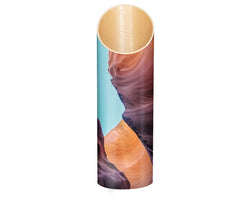 Jade Yoga Mat Tube Holder - Red Rocks
Jade Yoga Home Tube Holder 
Homi Tube is a friendly little yoga mat stand fashioned to fit into the tight corners of homes and studios. Built to stand while you flow, this designer tube will keep your sacred space clean and your mat ready to unroll, so you can practice easily and often.


Lean, green, and clean, Homi Tube is made of recycled, ultra-durable paper and built to last with a breathable, wooden end cap.
Eco-Manufacturing: Consciously crafted by hand in the USA by a mission-driven, woman-owned small business.
Character: Like fingerprints, there are no two Homi Tubes identical in dimension, pattern layout and grain pattern. Earth-friendly products are 100% handcrafted—every tube is unique!
Installation: Homi Tube comes pre-assembled, is free standing and designed to keep your mat rolled-up and upright.
Application: This is an indoor product. We recommend keeping your Homi Tube out of direct sunlight to avoid discoloration from UV rays and out of extreme temperatures, as prolonged or intense heat and cold may alter or damage the product.
* Tubes comes without mat!
Material:
Tube Exterior:
Durable, luxury paper. Homi's exterior Pattern Layer has one vertical seam on the backside. Note: depending on the Pattern Layer selected, this seam will be more or less visible.
Tube Interior:
100% recycled kraft paper (brown) with moisture-resistant treatment.
Durable Tube Core:
100% recycled wood fiber pulp with natural grain
End Cap:
Wood with generous "air hole" to promote everyday mat freshness.
Measurements:
Interior diameter: 6" (15.2 cm)
Exterior diameter: 6.5" (16.5 cm)
Height: 20" (50.8 cm)
Weight: 3.8 lbs (1.7 kg)
Care Instructions:
To clean the outside of Homi Tube, simply use a cloth dampened in warm water. Blot outside of the tube dry with a soft, lint-free towel. The use of cleaner or heavy rubbing can cause color to lift. DO NOT use active solvent-type cleaning preparations, such as nail polish remover, tar and bug removers, or liquid cleaners with a high alcohol content.