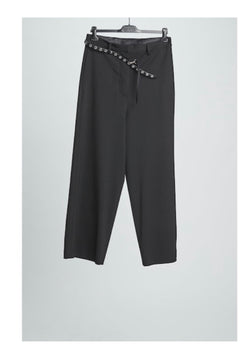 Hache Skater Pants in Black
Crafted from a luxurious wool gabardine fabric, these sophisticated skater pants from Hache make an elegant yet effortless everyday statement.
Created in Italy, the 53% polyester, 43% virgin wool, and 4% easting blend lends a wide-leg look to this 'straight' pant, detailed with a half belt with studs.
In our opinion you can size down in these pants.