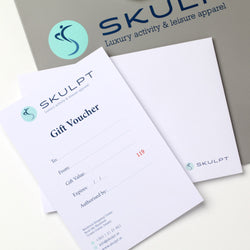 SKULPT Dublin
Gift Voucher
Please Note: This Gift Voucher is only redeemable in-store at SKULPT in Powerscourt Townhouse Centre & not online.
During Covid19 we can arrange for this voucher to be used please just send an email to info@skulpt.ie for details.
When ordering please let us know the Senders Name, Recipient's Name & Postal Address, Message for Recipient. This can be done in the notes section of the order or via a separate email: info@skulpt.ie
We'll get your gift voucher in the post within 24 hours. Our Gift Vouchers do not expire.